Basildon Home Page
View all our services
A guide to your area, enter your postcode for: refuse and recycling collection dates; your councillors; your polling station; schools, health and play areas.
Climate Change Basildon 2030 - Small changes, big impact
Climate Change Basildon 2030 is all about the small changes each of us can make, that when added together have a big impact on reducing greenhouse gas emissions across the borough. To find out more see Climate Change Basildon 2030
---
A consultation survey has been launched to seek views on proposals for separate food and garden waste collections.

Basildon Council is seeking the views of residents following a successful trial of separate collections which concluded at the start of the year. Of those who took part 88% said they would be happy for it to be introduced.

For full story see: News: Food and garden waste collections survey.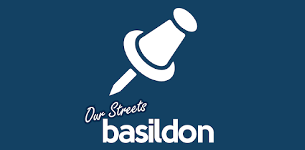 Get reminders of your next bin collection day.
Check bin collections 2 weeks in advance.
Order more pink recycling sacks.
Request special collections (for bulky items).

Available for Apple and Android devices.
Our Streets phone app FREE to download here