Basildon Home Page
View all our services
A guide to your area, enter your postcode for: refuse and recycling collection dates; your councillors; your polling station; schools, health and play areas.
Weekly garden waste subscription service to come into effect later this year
Garden waste collections will become a weekly, optional subscription service for residents later this year.
The optional service will mean a cost of £50 for one garden waste bin to be collected per year. This amount will reduce by 50% to £25 for any additional bins purchased. Residents will be able to share bins with neighbours to reduce the cost.
Residents can be notified by email once the sign up system is live by contacting recycling@basildon.gov.uk.
Once the subscription service starts, residents' garden waste will no longer be collected unless they are signed up.
Find out more here: In the news: Cabinet Members approve improvements to garden waste collection service
---

Are you ok? Find support with the cost of living
If you are struggling with money, energy debt or the cost of essential services, you are not alone. It's important to know that support is available. We are here to help.
Visit our dedicated support hub: Are you ok? Support with the cost of living
---

You now need photo ID to vote at a polling station
The UK Government has introduced a requirement for voters to show photo ID when voting at a polling station at some elections. This new requirement will apply for the first time in England at the local elections on Thursday 4 May 2023.
For more information on which forms of photo ID will be accepted, visit electoralcommission.org.uk/voterID or call their helpline on 0800 328 0280.
---
Tenant and Leaseholders Housing Repairs Review questionnaire
The Housing Repairs service is critical to our tenants and leaseholders. We are committed and driven to improve the service, in partnership with Morgan Sindall, and are seeking the views of tenants and leaseholders on the housing repairs service.
The survey results will help inform the improvements we are seeking to make.
Please take a few moments to share your thoughts by completing the survey: https://forms.office.com/e/bzGG4ELQiU
---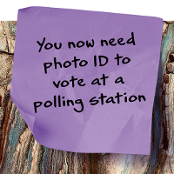 For the first time, residents in Basildon Borough will need to show photographic ID to vote at this year's local elections. Residents are being urged to make sure they are ready to vote in May by checking they have an accepted form of ID.

Manage your Council Tax and Benefits account 24/7 from your secure online account.
Check your details and balance, report a change in circumstances, apply for a reduction or refund, and more.