Basildon Home Page
View all our services
A guide to your area, enter your postcode for: refuse and recycling collection dates; your councillors; your polling station; schools, health and play areas.
Basildon Town Centre - Early Engagement Consultation
Basildon Council has launched an Early Engagement Consultation to get residents' views on what they want for the future of Basildon Town Centre. To have your say online see www.basildon.gov.uk/town-centre-engagement.
Basildon Council has today published the response from the Planning Inspector, Mr Paul Griffiths, after he considered the council's answers to his initial questions on the Local Plan.
In his response, the Inspector now requires the council to publish a revised Housing Topic Paper and an updated housing land supply calculation arising from the use of the standard methodology, together with all other updated and new evidence...

For full story see: News: Update on Basildon Local Plan Examination.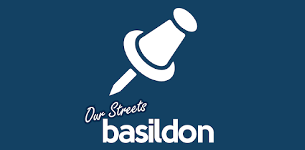 Get reminders of your next bin collection day.
Check bin collections 2 weeks in advance.
Order more pink recycling sacks.
Request special collections (for bulky items).

Available for Apple and Android devices.
Our Streets phone app FREE to download here