In the news: 'What next?' event to support students with their next steps
On Friday 26 August students who have recently received their GCSE or A-Level results will have the opportunity to meet a range of support networks to explore what's next for them.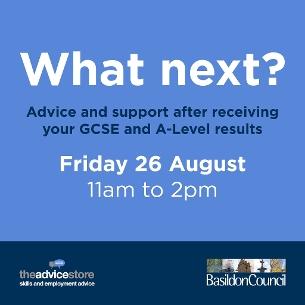 This special event will be held at Basildon Council's Advice Store in Basildon town centre.
A week on from A-level results and the day after GCSE results, young people will speak to a wide range of organisations offering a variety of opportunities for their next steps. These include apprenticeships, supported internships, training to enter job sectors such as beauty and construction, or study programmes to improve grades.
'What next?' is specially designed to support those who may feel anxious about opportunities available to them.
Young people who haven't received their results but would benefit from attending are also welcome.
Exhibitors at the event include ACL, Clarion Futures, Debut Academy, HeadsUp, LifeSkills, SECTA, USP and Prince's Trust.
Cllr Anthony Hedley, Basildon Council's Cabinet Member for Economic Growth and Business Engagement said "We know receiving exam results can be an emotional and unsettling time, the 'What next' event is a great opportunity for young people to explore their options, whatever their results may be.
"With a range of exhibitors on hand to talk through apprenticeships, education programmes, career advice, employability support, and much more, there is something to suit personal circumstances. The Advice Store is a fantastic asset for our community and one that will benefit many of our young people in taking the next step in their career."
The event will be held at The Advice Store, 5 Market Pavement, Basildon, SS14 1DD, on Friday 26 August from 11am to 2pm.
Register your place here https://www.eventbrite.co.uk/e/what-next-support-and-advice-after-gcse-and-a-level-results-tickets-392338855077
The providers attending the event:
· ACL - https://aclessex.com/centres/
· Clarion Futures - https://www.clarionhg.com/charitable-foundation/
· Debut Academy - https://www.debutacademy.com/
· HeadsUp - https://enableeast.org.uk/headsup/
· LifeSkills - https://learnaliving.co.uk/lifeskills-centres/lifeskills-basildon/
· SECTA - https://www.sectatraining.co.uk/
· USP - https://www.uspcollege.ac.uk/
· Prince's Trust- https://www.princes-trust.org.uk/
ENDS
Published 22 August 2022