In the news: Council equipment improves digital access for borough's school children
Councillors joined representatives from Basildon-based charity, Every Child Online as they donated a number of refurbished laptops to Woodlands School in Basildon on Tuesday 22 February.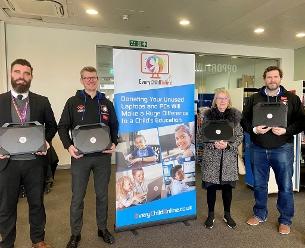 The laptops will be added to the school's existing infrastructure, made available exclusively to children who do not have the use of a device at home.
Basildon Council's Digital Inclusion Policy seeks to tackle digital isolation, by ensuring residents get access to devices to be able to connect to digital platforms and services. In the last two years, Basildon Council has donated more than 200 devices to Every Child Online.
Councillor Terri Sargent, Chairman of the Communities and Wellbeing Committee, joined the handover event. She said: "It has never been more important to have good digital access. Without it, children across the borough are in real danger of falling behind. These devices will help children keep up with their homework, connect with their friends and develop key digital skills - giving them better prospects for their future.
"I am grateful to Every Child Online for tackling this important issue and connecting our children to a better future. I would also like to thank the Rotary Club for all their support distributing devices around the borough and the local students helping to refurbish the devices in preparation. This whole initiative is a fantastic example of local people supporting local people - something to be truly proud of."
Co-Founder of Every Child Online, Mike Tabard, added: "With the backing of Basildon Council, their ongoing donations of preloved computer equipment and commitment to supporting our charity's growth, Every Child Online will be able to support every school in the borough in future.
"It is vital to address the issue of digital isolation, not just for our children's education, well-being, and mental health, but for everyone in our community that feels alone and disconnected from the world. Providing computer equipment and training can only benefit an individual who wants more from life."
If you have a pre-loved computer or laptop you would like to donate to Every Child Online, visit their website to find out more. Every Child Online - Help close the attainment gap
ENDS