In the news: Big Basildon tree planting project gets underway
Almost 13,000 trees are set to be planted across Basildon as part of a three-week project spanning three sites.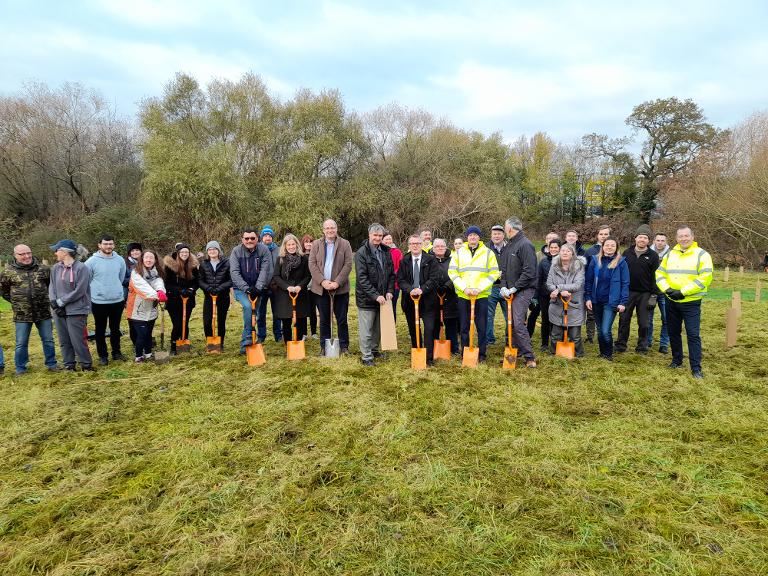 It is the largest number of trees to be planted across the borough this century and involves hundreds of volunteers from the community, local businesses and council staff.
The trees, which are a variety of species from the British isles, will be planted using sustainable methods including composted mulch and sustainable guards and stakes.
The project is costing a total of £32,214 and is being joint funded by Basildon Council, Essex County Council and local businesses, specialist joinery firm, Brown and Carroll and Fords.
Councillors Andrew Baggott and Craig Rimmer met with leading council officers and partners on Tuesday 30 November at Gloucester Park to launch the project.
Leader of Basildon Council Councillor Andrew Baggott said: "This year we launched our Small Changes, Big Impact Climate Change campaign. To lessen our carbon impact and reach our goal of a carbon net-zero borough by 2050 we need more trees. Climate change is a huge and complex issue and as individuals we can feel there is nothing we can do. But there is something we can do - and that's increasing tree and woodland cover. There is a Chinese proverb that says the best time to plant a tree is 20 years ago. The second best time is today."
Chairman of the Leisure and Environment Committee Councillor Craig Rimmer said: "This is the biggest project to plant trees in the borough for many years and wouldn't be possible without the help of volunteers from across the community and local businesses. I would like to extend my thanks to them as well as partners for helping to fund this excellent and worthwhile project."
Essex County Council's Forestry and Woodland Officer, Tom Moat, said: "The Essex Forest Initiative is a tree planting project led by Essex County Council and we are very pleased to be working with Basildon Council on delivering a fantastic planting scheme across three sites in Basildon. The successful establishment of almost 12,700 trees will have a positive impact on the people and wildlife of the area and will help tackle both the climate and ecological emergencies that we are all facing. We hope this partnership will lead to future tree planting projects in this area."
Managing Director of Brown & Carroll, Paul Carroll, said: "At Brown & Carroll we are passionate about doing business in a sustainable way. Many years ago we made a serious commitment to plant six trees for every single cubic metre of timber we use. So, we're delighted to be donating the 10,160 of the trees required for the Big Basildon tree planting project."
Project leader from Ford Motor Company Ltd at Dunton, Marlena Moores, added: "We are thrilled to be able to get our team involved in such a fantastic local project, which benefits the environment and aligns with the Ford ethos of making positive contributions to the world around us. Last year our team was involved in manufacturing ventilators for the Ventilator Challenge UK consortium and this year we are delighted to be involved in planting 'new green lungs' for the nature around us."
The trees are being planted across three sites in the borough as follows:
Locations Tree Numbers
• Gloucester Park 6,900
• Miles Gray Road 1,700
• Christopher Martin Road 4,100
ENDS
Published on Tuesday 30 November