Basildon for business case study - Costa Coffee
Costa opened its £38 million state-of-the-art roastery in Basildon in early 2017 and now ships perfectly roasted coffee beans to more than 3,000 Costa cafes in 31 countries.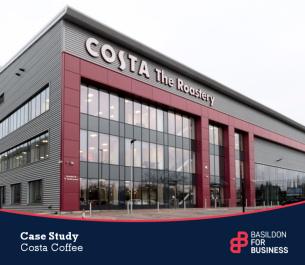 Costa Coffee
Established in Basildon
Established in Basildon since 2017.
Sectors the company operates in
Food and Hospitality.
Description of what the company does and notable achievements
Costa Coffee was established in 1971 when brothers Bruno and Sergio Costa founded a coffee roastery in Lambeth, London. They opened their first store in 1978 and have since been selling their own blend of Italian coffee. In 1995 Costa was sold to Whitbread and in 1999 it opened its first international store in Dubai.
There are now 2,389 Costa stores within the UK and a further 1,366 throughout 31 countries worldwide making a total of 3,755 stores. There are also a further 8,046 Costa Express machines located within offices, garages and supermarkets worldwide.
Costa are the largest UK coffeehouse chain and second largest in the world behind Starbucks. They have won numerous awards for their coffee including Allegra - Nations favourite coffee shop consecutively from 2009 - 2015.
Size of company (number of employees)
15,000 in total, 30 of whom work at Costa's Basildon Roastery.
Experience of doing business in Basildon
Seeking sites to be able to expand production, in 2017 Costa invested £38m to relocate their roastery to Basildon. This site was chosen for its proximity to Tilbury docks where the coffee beans are imported. This is half the distance compared to the old Lambeth roastery, generating less road miles and emissions as a result.
The Costa roastery is one of the most sustainable buildings in the world, with some of the features including a rain water harvesting system which will produce hot water for the building, cycle storage and a solar power system to provide power to the building saving 80,000kg of carbon emissions a year.
The new site in Basildon has quadrupled Costa's roasting capacity per year from 11,000 tonnes to 45,000 and will enable Costa to produce coffee for 2.1 billion cups of coffee per year. There is capacity to expand the roastery in the future to create an annual roasting capacity of 60,000 to meet growing demand. The facility also houses an academy which will train 3000 baristas per year.
The Roastery is expected to operate for the next 20-30 years.
Dominic Paul, Managing Director of Costa - "Roasting here in Basildon keeps the UK at the centre of our growing global brand and enables us to build on everything we have learned from more than four decades of roasting in Lambeth. Today is about quality, capacity, investing in the future and being true to our heritage - it's about embracing our traditions whilst continuing to innovate and drive global growth."
Visit website: Costa Coffee - The nation's favourite coffee shop.