Basildon for business case study - Leonardo in the UK
With its origins in Basildon since 1952. Leonardo (formerly Selex ES) designs, develops and manufactures products for national security and military uses as well as complex civil infrastructure management.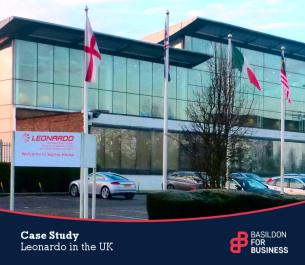 Leonardo UK
Established in Basildon
The facility was originally built in 1952 under the Marconi name. It is now Leonardo, one of the top ten global players in Aerospace, Defence and Security and Italy's main industrial company.
Sectors the company operates in
Aerospace, Defence and Security.
Description of what the company does and notable achievements
Leonardo is organised into seven business divisions: Helicopters; Aircraft; Aero-structures; Airborne & Space Systems; Land & Naval Defence Electronics; Defence Systems; Security & Information Systems.
At its facility in Basildon, the company creates secure communications and surveillance systems such as the thermal imaging cameras that help the pilots of British Army Chinook helicopters fly in pitch dark conditions.
With a storied heritage, the company's Basildon site has produced a number of world firsts including TICM, the UK's first military standard production thermal imager, the Phoenix unmanned military surveillance vehicle and the formidable multi-purpose turret fitted to the US C130 Gunship.
Size of company (number of employees)
47,000 (total) 850 (Basildon).
Experience of doing business in Basildon
Originally sited in Basildon during its 'New Town' development in the 50s, Leonardo was able to take advantage of a pool of highly skilled engineers and researchers which led to the company developing a number of breakthrough technologies. Today the company still bases its competitive edge on having technology that is often world-leading, so having access to the Essex area's population of degree-educated engineering, maths and science professionals is absolutely crucial.
As an international company with over 200 sites worldwide, Leonardo's Basildon facility benefits from good transport links to London's airports and the new link between Southend Airport and Edinburgh, where another key Leonardo site is situated
Mike Gilbert, SVP Optronics (UK), Land & Naval Division, Leonardo.
Visit website: LEONARDO - Ingenuity At Your Service.