Download the Street Tag app
Street Tag brings communities together with outdoor or indoor exercise, by turning streets into a giant virtual playground.
What is Street Tag?
Basildon council have partnered with the Street Tag team, to keep the local community moving. Street Tag is a family friendly app, rewarding friends, families and individuals for being active. Gain points every time you go for a walk, run, bike ride and move up your local leader board!
How does Street Tag work?
Install the app, create a team and join the Basildon leader board
Earn points from physical activities indoor and outdoor- walking, running, cycling to scan virtual tags and convert your steps into Street Tag Points
Get rewards/ win prizes such as amazon vouchers, gift cards, sports equipment and lots more
Get ready to push the boundaries and start your journey to a healthy lifestyle with Street Tag.
When's your Power Hour?
Power Hour is an hour of your day, where you can walk, run or cycle your way to triple points! Scan virtual tags within an hour chosen by you - then, each virtual tag is worth triple points.
When your power hour starts, your countdown will start too, so get moving! Within the hour, you can exercise for as long as you wish, every minute counts.
Choosing your power hour is completely up to you - get outside for a lunchtime walk or an evening run. Select your hour up to 24 hours before, and choose up to seven days in advance.
Plus - Power Hour streaks
Every time you finish a power hour two or more days in a row, you'll get bonus points for your streak. The longer you keep your streak going - the more bonus points you'll earn.
For example, for a two-day streak; day one will be worth 50 points, day two will be worth 55 points etc. You can win up to 300 extra points a week!
Benefits of using the Street Tag app
Enhancing your mental and physical wellbeing
Win prizes, including Amazon vouchers, gift cards and sports equipment
Rediscover your local country parks and walks
Connect with other members of your community using the Street Tag app
Have fun competing against your friends and family
Download the Street Tag app now
The Street Tag app is now available to download for Android and Apple devices.

For Android users visit:
Google Play Store: Street Tag
For Apple users visit:
Apple Store: Street Tag
---
Basildon Borough Council is receiving up to £165,814 of funding from the European Regional Development Fund (ERDF) as part of the Welcome Back Fund (WBF) project up to the end of March 2022. Councils across England are receiving a share £56m of ERDF funding to support the return to high streets safely and help build back better from the pandemic. The purpose of the grant is to support the safe reopening of high streets and other commercial areas and forms part of the wider support government is providing to communities and businesses, to protect jobs, support the most vulnerable and build back better.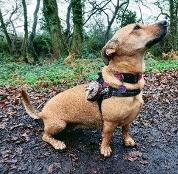 David is a keen Street Tagger - hear how he is using the app to increase and monitor his physical activity.