Basildon at 70 - Share your memories with us
Throughout 2019 we shared a selection of our residents' Basildon at 70 memories, both here and on our social media channels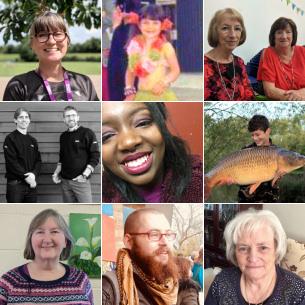 It's the residents that make Basildon shine and their memories are central to the town's story. We believe Lewis Silkin's vision of a town where 'friendliness, neighbourliness, comradeship, and the spirit of helpfulness could thrive' is reflected across Basildon by its residents.
---
Councillor Allan Davies, won the Basildon Council Writer of the Year competition in 1985
Councillor Allan Davies writes., One of my best Basildon memories was when I won an award for Basildon Council's Writer of the Year 1985 competition.
"I was and still am a big science fiction fan and used my grandma's old typewriter to type out my own science fiction story and sent it in.
"I was overjoyed to find out my story won an award and was presented with a certificate at a ceremony by the Chair of the Council, Eileen Gelder. I think it was at the Basildon Arts Centre and I think the prize was book tokens - but it was a long time ago! I'm pretty certain I probably bought more science fiction books with the tokens."
---
Mayor of Basildon, David Burton-Sampson, who shares his experience of being on the big screen
"Many people may not realise that the reason I came to Basildon, originally coming from Liverpool, was in no small part due to the fact I moved to the south to seek fame and fortune after graduating as an actor.
"Obviously my career has now gone in a very different direction. However back in 2012 I somehow managed to reignite my acting skills when I found myself cast in a role as an Ofsted Inspector in a lottery funded film set and filmed in Basildon. With the working title Bas Vega, Angels Versus Bullies was an excellent piece driven by a well known Essex Theatre Company - The London Bus Theatre Company.
Predominantly filmed in James Hornsby School the film focused on the issues of bullying amongst young people with a bit of the supernatural added in for good value. It was a strange experience seeing the film in 2014 over at Festival Leisure Park as I watched myself on the big screen. However it was great that so many young and local people were able to get involved in the film and get their taste of tinsel town. I believe the film is still available to stream if anyone fancies watching it!"
---
Kevin Smith, remembers swimming lessons at the new Gloucester Park Pool in 1968
"My memory of growing up in Basildon is from 1968. Getting on to a big green coach at Whitmore school and taking us to the newly opened Gloucester park swimming pool for swimming lessons.
"Highlights were sewing the red and yellow ribbons on my trunks for completing a width then a length of the pool.
"First time swimming in a pool, and afterwards we had hot showers which were a new experience as well."

---
James, now in Adelaide, Australia, shares a treasured family photograph of his happy childhood in Basildon.
"This photo was taken in 1972 in the back garden of 113 Pattiswick Square Basildon. It's my nan, Rosie Payne, my mum Janet Payne and me. In the background is Fryerns School, my nan was a cleaner there. I remember Nan's jacket that's for sure. I was enthralled by it and thought that Nan had the only jacket like this in the world. Many years later Mum 'sort of nicked it'. I think it's hanging up in Mum's wardrobe even now! As a five-year old I imagined Nan leaping over the back fence to get to school/her work and that she was lucky she lived so close".
---
Roxie, "As a young girl in the late 80s/early 90s the Towngate Theatre felt like my second home."
"I was fortunate to be part of numerous professional productions which attracted top directors and creatives to our town. Beorhtel's Hill, English National Opera's Gretel and Hansel and two pantos including the one in the photo - Monty Moonbeam's Magnificent Mission - just some of the once-in-a-lifetime experiences I'll never forget. They inspired me to want to work in the theatre and arts industry, which I've always done and now work with schools across Essex for the Royal Opera House."
"My memory of the Monty Moonbeam's Magnificent Mission panto is having lots of time off school to rehearse and perform, having lots of fun with the other kids backstage, every performance feeling like Christmas Day because the audience always got swept up in the magic and also flour being everywhere! The adult in the photo carrying a sack of flour was a Miller - I can't remember the storyline but do remember a slapstick comedy flour fight at the end of the show!"
---
Ali, with fond memories of creating a vintage fashion show at the Roundacre Hall in the 1990s
"Back in the early 90s, my good friend Abi had a vintage clothes unit at the back of Liberty Shopping Hall, remember that? It was where QD is now, full of individual units where you could buy anything from red velvet Doctor Martens (my personal favourite) to guitar strings, and pretty much anything in between.
"For my 19th birthday, and Abi's 20th, we hired the Roundacre Hall. They used to run Indie Nights on a Friday night, a regular haunt for me.
"For our joint birthday party, we created a vintage fashion show, where a bunch of friends dressed up in clothes Abi was selling in her unit in Liberty Shopping Hall, and paraded up and down a makeshift catwalk on the Roundacre stage with Indie tunes as our soundtrack. Mannnn, I miss the 90s!"
---
Andrew Buxton remembers going to his first football match, Basildon Utd vs Crystal Palace
"I was born in 1969 in Basildon, my late parents were new town pioneers when they moved here in the early 50s. At school, I was never great at sport but I fell in love watching football and that's how I got interested in watching Basildon Utd.
"It was 40 years ago when I was in the town shopping with my mum and there were adverts in a lot of the shop windows saying Basildon Utd were playing Crystal Palace. It was the club's first ever game under their new floodlights that cost 10k and other works on the ground too, so I nagged my dad to see if he would take this 10 year old and he gave in - it was my first ever game I had watched I enjoyed it so much, even though Basildon lost and I can't remember the score!!
"My love of watching Basildon Utd play grew after watching that first game and its given me some brilliant memories over the last 40 years, some decent FA Cup runs and two quarter finals appearances in the FA Vase. This is a great club that has had some low times but it's always dusted its self down and dug deep and got itself back up and into a higher league again in 2018. So this is my favourite Basildon memory and why I think that Basildon is a nice place to live and here's to more happy times for Basildon Utd."
---
Jade shares her memories and those of her mum Cheryl and Grandmother Joan
"As a family we are now into the 4th generation of being Basildonians. My grandparents were one of the first settlers in Basildon living in Osbourne Road. They had got married and moved here from East London. My grandfather worked for Marconis. My grandmother remembers the sense of community especially with the street parties for special events such as the Royal weddings. They also made life long friends at the Marconis social club.
"My Mum was born in Osbourne Road and attended what is now Cherry Tree Primary school. She and my auntie remember hanging out with friends and listening to the Bay City Rollers. She also remembers when the ABC cinema opened and the stars from "On the buses" a TV programme came to open it, we all queued for hours to get their autographs.
"I grew up in Basildon during the 80s and 90s one of my favourite memories is of meeting Darth Vader outside of SavaCentre when the owl clock and fountain were outside. I also remember Saturday afternoon as a teenager at Robins cinema. And now my niece who is 9 also attends Cherry Tree Primary school.
"I am really proud to live in Basildon. Even when I lived abroad for 15 yrs, my shoulders always relaxed when I saw the Basildon sign after my dad had picked me up from the Airport. I feel proud that my grandparents were people who helped build the town into what it is and that my niece is part of the next generation who will continue to build it."
---
Rob Baker, a lifetime local angler
"My fondest memories are based around my childhood spent in Gloucester Park. Each year, the excitement of the fishing season starting on 16 June and camping around the lake days before waiting for the season to start."
---
Sarah O'Neil, a Basildon resident for 55 years
"We were living in some rooms and had got married in October. Valentine's Day, on 14 February, we got word through from the council to say we had got the house in Basildon, a brand new house, 55 years ago. That's my best Basildon memory."
---
Pat and Frank, recently moved back to Basildon
"We moved back to Basildon recently to be closer to our family, we've stayed in touch with friends we met here 50 years ago! Our favourite memory of Basildon was our 60th Wedding Anniversary at The Gun Pub in Pitsea. It was so lovely to get the children and grandchildren together in one room for the first time in years."
---
Steven King, pioneer of community radio broadcasting in Basildon since 1999
Our Basildon at 70 Monday memory this week was sent in by Gateway 97.8fm's Steven King, who along with Robin Emery, was there at the start of community radio in the New Town with Eastgate FM.
He remembers that once they obtained a 28-day broadcasting licence "There were preparations for flyers, banners, jingles and commercials and more importantly the presenters who would broadcast 24/7.
"Eastgate FM launched on 13 June 1999 at 7pm with a countdown live on air and more than 40 people come to our launch night.
"We owe a lot to the people who helped at the start to pave the way for a long term community radio station that is now Gateway 97.8fm.
"As Basildon celebrates its 70 anniversary I feel proud to be part of the community serving and working with Gateway 97.8 FM."
---
Marc Grayston, Olympic Torch bearer at the London 2012 games.
"Carrying the Olympic Torch in Basildon - a town I'm so very proud of, was an absolute thrill.
"Getting to be a part of the day with the Japanese Olympic swimming team was amazing and it felt like the whole world was watching Basildon.
"The very best moment of the day was spending time with the hundreds of school children who had visited the Sporting Village to come and see the Olympic Torch Relay. I'm still humbled by the experience and every time I visit Basildon Sporting Village I think of July 6th 2012".
Marc was one of the organisers of the Kodosai Japanese Cultural Event, a Basildon at 70 event on 4-6 October 2019.
---
Matt, from Basildon
"It was November 1985, I was nearly 5 and it was the day of the Christmas light switch on in the Eastgate Shopping Centre in Basildon. Rod Hull and Emu from my favourite TV show the Little Pink Windmill Show were there and Alison Moyet.
I remember being so excited and being held up by my mum and dad so I could see them over the heads of the other people. There was a big public countdown, they all pushed the plunger and there was a cheer as all the twinkly lights went on and the magic of Christmas began".
---
Lisa Horner, writer and researcher of two published books on Basildon
This week's Monday memory is from Lisa Horner and coincides with the release of her new book 'Lost Basildon'.
"I interviewed many people from different walks of life and one of the most interesting people to interview was Geraldine Evans whose family had run The Barge, Vange for seventy years.
It all started with Geraldine's aunt, Elizabeth Goodson who paid a settlement of £2,643.06 for the lease of The Barge Inn and surrounding land on 20th May 1937. She married local baker George (Doughy) Saunders who was famous in his own right, he used to head up the Vange carnival procession dressed as John Bull, a tradition that went back at least as far as the Napoleonic Wars. Geraldine described them affectionately as being like the Elizabeth Taylor and Richard Burton of Vange, they had a big influence as it was a very close knit community.
In 1945 Elizabeth invited Geraldine's Dad and pregnant Mum, Ted and Angela Gahan, to take over the pub. Sadly, Geraldine's mum died 20 years later so she decided to work with her dad rather than pursue her career as her heart had always been in the pub"
'Lost Basildon' is available for purchase now on Amberley Publishing's website, Amazon UK and shortly at W H Smith, Basildon.
---
Geraldine Evans, whose family ran The Barge pub in Vange for about 70 years
Geraldine's Monday memory is from her time with the Basildon Youth Players and their 1965 song (which has a ring of 'The Who' to it)
'They try to tell us we are too young, too young to build a real Town,
They say we have no past, we cannot build to last,
We will make mistakes there will be no living down.
Yet, within our hearts we know, that knowledge helps the mind to grow.
Some day, they will find, as we leave our youth behind,
That we have built A REAL TOWN'.
"So very true", adds Geraldine.
---
Nicola Woolmer, a kid of the 80s who grew up in Basildon
"I suppose as a kid of the 80's my favourite memories have got to be when McDonald's came to town. I loved the train seating area they had on the second floor of the restaurant. Also I had a visit into the kitchen on a Brownie trip and on my 10th birthday 08/08/1990.
"I also remember when Eastgate centre was opened 1986. My school, Greenstead infants, had a drawing competition that Eastgate was running. And I was there for the big open. We were given a little box with a chick on top filled with sugared almonds. Think I still have it in the loft somewhere, lol"
---
Vic Hobbs, born in Pitsea and grew up with seven brothers and one sister
"Every day was like a holiday. There was one time we stole our mum's tin bath and tried to use it as a boat, we took it over to Pitsea Fleet which is down at Wat Tyler to do a bit of eel fishing.
Two of my brothers were in one end and I got in the other and it sunk. So we got home and made out we didn't' know where it was. It came to bath night and mum's gone out to get the bath and she says 'where's the bath?' and my older brother said it must've been stolen!"
---
Ingrid Anderson, who has been working in Basildon Primary Schools for 27 years
"My favourite Basildon memory is working with the schools. I was employed about 15 or 16 years ago to work in the schools across Basildon and I would say that's my best memory; getting in involved in Basildon and learning just how amazing our young people are here."
---
Leona Murray-Green, who's parents moved to Basildon in 1974
"One of my earliest memories is winning the fancy dress competition as a hula girl at the 1977 Silver Jubilee street party on Danacre deck. I remember my dad made my costume and poked me in the eye with a mascara wand as I kept blinking. My mum said it was a great day when all our neighbours made either sandwiches or cakes for the party. My dad remembers the home brewing skills of one of our neighbours was particularly good!"
---
Steve Hearn, Star Cyclist of Basildon in 1973
"My favourite Basildon memory?... From 1973 when I was Star Cyclist of Basildon and went on to be champion safety cyclist of South east Essex!"
---
Sarah O'Neil (right), along with her sister Anne
"We were living in some rooms and had got married in October. Valentine's day, on 14 February, we got word through from the council to say we had got the house in Basildon, a brand new house, 55 years ago. That's my best Basildon memory."
---
James Watts and Bill Rhodes, founders of Ashes into Glass based at Barleylands Farm, Basildon
"Our favourite Basildon memory? The presentation evening for the Basildon Business Award in 2007 at the Towngate Theatre with our wives. We'd never been nominated before and winning was a lovely surprise."

---
Linda Matthews
"We came from a tiny flat in Bethnal green to a brand new house in Waldegrave. My sister and I would go to the market Saturday morning buy a yard of material. Machine up two mini skirts with braces and wear them at the 3pm til 5pm disco in the Mecca. It was such fun meeting all our Kingswood school mates up there"
---
Priscilla Williams
"Some of my best Basildon memories are going to Gloucester Park with my sibling. If it was really sunny we'd spend the entire day there, it was lovely"
---
Charlie Perkins, an apprentice at Basildon Council
"My favourite Basildon memory is fishing in Northlands Park and catching carp up to 28lb which is my biggest to date"
---
Eileen Brown, moved to Vange in July 1967
"I have seen Basildon grow so much. I watched the swimming pool at Gloucester Park and Basildon train station being built. Before that, you had to go to Pitsea or Laindon when you were going on holiday.
"The carnival used to be such a wonderful event, which everyone would come out for. It would be great to get that sense of community back this year."
---
Michelle Freeth, moved to Laindon in 1971
"We used to go to The Winston because we could take the children with us, and The Laindon Hotel was always a good night out. They used to have some really good singers on in there.
"I remember sitting out in the street with all of the other mums while we watched the kids play. There was such a lovely community spirit and everyone knew their neighbours."
---
Lewis Blaney, a resident who was born in Basildon in 1993
"Born in 1993, raised and still here; I'm not sure I will ever leave and perhaps that adds the 'Hotel California' connotations to this Town but Basildon has a character unlike any other. Many of my fondest memories are here in Basildon from the Saturday's in Fryerns Library with my mum and sister, my days attending Willows Primary School, Barstable school and eventually meeting my partner of nearly 8 years at the Basildon Academy sixth form.
I've experienced nearly every corner of this town and even after 26 years I still find something new and now with a child of my own attending a school in Basildon she gets to have that same relationship and experience with Basildon, a vibrant town with a demonstrable personality."
---
Jacques Bottjer, Basildon poet and spoken word artist
"The art scene in Basildon has improved an awful lot. We've got the Foundation for Essex Arts doing amazing work and we run our own poetry nights at the Towngate. The Edge bar have Hippie Joe doing his music open nights, so there is stuff ticking over and coming along."

---
Lauren Martin, Creative Director of Things Made Public
"With all the changes going on in the town centre, it's nice to have a signpost to that. The area is going to be so vibrant, and it would be a real shame not to capitalise on that."

---
Patricia Webb, who moved to Bowers Gifford in 1989
"I used to love Pitsea Market, it had a great atmosphere. My father was a proper east-ender so it reminded me of my roots.
"I remember The Gun Pub when it was called Aunt Fanny's, and the Railway was such a beautiful old building."
---
John Sell, who was born on Marsh Farm, Vange, in 1949
"There was no A13 to cross, we used to walk down Brickfield Road to get to Vange School. There was still an army camp there in the early 1950s. The guns would be going off but the cows would still need milking, so I used to go out in a tin hat!"
---
Terry Doubleday, who grew up in Dry Street and is a member of Basildon Operatic Society
"The Arts Centre became a real focal point of the community when it opened in 1968. There were rooms for people who wanted to paint, a folk club, wine evenings and themed events."
---
Christopher Harris, who moved to Basildon New Town in 1960
"Me and my school friends used to go to Wimpy when it first opened for a hot dog and a cup of coffee."

---
Rosalind Powley, a former teaching assistant at St Anne Line School, moved to Laindon in 1976
"We're so lucky to have the Towngate Theatre, we don't ever want to lose that. Some of the plays I've been to see have been brilliant.
"I can still remember when it first opened. Everyone was talking about it at the time, it was a big deal. It has become even more popular since Simon Fielding has been putting on his panto, which has been lovely to see."

---
Tracy Godden
"I absolutely love what I do, and seeing how much an impact Forget Me Not has makes it all worthwhile."

---
Steve Saunders
"The building of the Eastgate Centre sticks out in my mind. It was a massive thing for the town. I've been working on the market for 35 years and one of my best memories is those early days with the hustle and bustle. It was such a meeting point."
---
Chris Smith, Director of New Town Utopia
"There a lot of people who have always loved Basildon and still do. People who moved from London as teenagers or to bring up their family remember what they came from and how much their living conditions improved..."
Visit the New Town Utopia website.
---
Kathy Footer, moved to Basildon in 1956 aged seven
"The open spaces and country lanes were wonders to behold. There was so much exploring to and fun to be had, from getting stuck in mud to negotiating rough tracks that would one day become roads. Everything was new and exciting!
"Going to the old Pitsea Market with mum was a fun morning out, you could always grab a bargain.
"I loved growing up in Basildon."

---
Darren Chaplin, Basildon postman and Team GB duathlete
"I'm proud to have lived here for the past 20 years. I use the green spaces and Basildon Sporting Village to train for European and World Championships, and to keep fit and active."
---
Iris Hanson, who moved to Lee Chapel North 55 years ago
"In London we were living in rooms, so coming to Basildon massively improved our lives.
We came here so my husband George could work in the tractor plant, and we moved into a brand new house which remains our home to this very day."

---
Simon Bristoe, a member of the Basildon Operatic Society
"The Towngate Theatre is where I started out performing. It's such a gorgeous venue and it's important that it doesn't go to waste, which is why the public should support their local theatre groups.
We're very lucky to have a theatre like the Towngate here in Basildon."
Visit Towngate Theatre, Basildon website.
Visit Basildon Operatic Society website.
---
Nick Chaundy, arrived in the borough as a key worker in 1982, tasked with launching special needs education at the former Basildon College
"There used to be a club above the old Towngate Theatre which was very welcoming and full of revolutionaries. Before I moved to Basildon people told me it was Moscow on the Thames!
"I remember going to the library when it was in a portacabin and there were buckets out to collect the rain. Everyone knew we were going to get something more permanent so there was no point paying for repairs!"
---
Janis Humphries, moved to Basildon from North-West London at the age of seven
"Everything around us was a building site when we first arrived. I remember my brother used to go around talking to all the builders and playing games with them. They were so friendly.
"We used to have fabulous picnics on the Woodlands Estate when it was just trees. I had a great time growing up in Basildon."
Address

Basildon 70
Basildon Council
The Basildon Centre
St Martins Square
United Kingdom
SS14 1DL
Basildon, Essex