Basildon at 70 - A review of the year's highlights
During 2019 Basildon New Town celebrated its 70th anniversary with a whole variety of events and activities, enjoyed by thousands of people and all made possible with the generous support of local schools, charities, businesses and community groups. Here's a look back at just a few.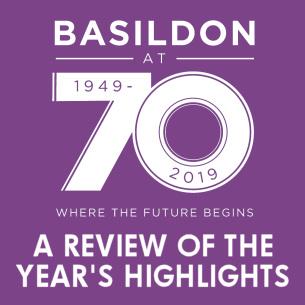 Our Basildon at 70 celebrations were supported by over 90 partners from the business, education and voluntary sectors.
A total of 31 celebratory events took place throughout 2019!
Basildon's first NEW TOWN SOUNDS event included 54 performances, 248 performers and 54 hours if cultural activity.
52 Monday Memories were sent in to us by Basildon residents past and present, sharing their favourites memories of Basildon New Town.
Over 100 nominations were submitted by the community for our 70 Basildon Heroes campaign, ranging in age from an 11-year old fund raising cyclist to a 99-year old D-Day Veteran.
At this year's Basildon and Pitsea Carnival, Rydene Primary and Greensted Junior schools won 1st Prize for their Basildon at 70 themed float.
See below for further information on these and other Basildon at 70 events throughout 2019...
---
January 2019 - Civic Service in St Martin's Church

In January 2019, the Basildon at 70 kicked off with a Civic Service in St Martin's Church where Basildon's past, present and future were celebrated with speakers representing education, business, heritage and sport.
---
Celebrating 70 years with 70 Basildon heroes

Basildon Council and Eastgate Shopping Centre celebrated the New Town's 70 years by choosing 70 Basildon Heroes from nominations invited from the public. The response was great with nominations received mostly for individuals but including a number of community, voluntary, sports and cultural organisations as well.
We would like to give a BIG THANK YOU to everyone who took the time to nominate their own Basildon Hero.
All our Basildon Heroes were honoured at a reception with the Mayor in November 2019 and their photos are now on exhibition on the 1st floor of the Eastgate Shopping Centre in Basildon town centre, and they're all published here too.
See Basildon at 70 - See our Basildon at 70 heroes here
---
Sharing your Monday Memories with us

It's the residents that make Basildon shine and their memories are central to the town's story over the last 70 years. Throughout 2019 we invited residents and the public to share a treasured Basildon memory with us, along with a personal or period photo to be published on our website and social media each Monday. The response was really encouraging with contributions from across several generations and from as far away as Australia. Some were surprising, some were funny and occasionally they were quite touching.
Our collection of Monday Memories confirms our belief that Lewis Silkin's vision of a town where 'friendliness, neighbourliness, comradeship, and the spirit of helpfulness could thrive' is still reflected across Basildon by its residents. Thank you all for your memories.
You can see the photos and read the memories here. See Basildon at 70 - Share your memories with us
---
May 2019 - Vintage Tea Dance

Original 1950's attire, decorative antique china and dancing that would have scored highly on Strictly, were all part of a vintage tea dance held at Woodlands School to celebrate Basildon at 70.
More than 60 new town residents, who have all seen their own 70th birthdays, attended the dementia friendly, free event organised by Basildon Council and Woodlands School. Students from the school served up a real treat, with afternoon tea and live music from the 50s and 60s performed by the school's music department.
David Wright, Headteacher of Woodlands School, explained: "It was a wonderful opportunity for the school to give something extra back to our community which we are all very proud of. So many smiling faces and great stories linking the past to the future." then adding, in praise of his students who gave freely of their time to help: '"...They don't do it to get something in return, they do it because they're decent kids..." We would like to add a big thank you to that well deserved compliment.
---
June 2019 - Basildon at 70 Quiz Night at The Place
The Place, multi-purpose leisure centre in Pitsea hosted their own Basildon themed Quiz Night which was a sell-out event with nineteen teams entered including the Mayor and Deputy Mayor of Basildon. Quiz goers took part in eleven entertaining rounds about Basildon and a charity raffle raised £387 to be shared between Cancer Research UK, St Luke's Hospice, The Jo Cox Foundation and The Mayor's Community Foundation. Our thanks go out to The Place and everyone who took part in this celebratory Quiz Night.
The Place is an ideal venue for all sorts of recreational activity and includes a fully equipped gym and exercise classes, as well as function and room hire facilities. To find out more see 'The Place', multi-purpose leisure centre, Pitsea.
---
July 2019 - Basildon and Pitsea Carnival
Ryedene Primary School and Greensted Junior School joined forces to enter a float in the annual Basildon and Pitsea Carnival. Of course the theme was Basildon at 70 and the children made their own t shirts, headdresses, banners and bunting all centered around Basildon's iconic buildings, businesses and people. And their float won first prize! We would like to give a big thanks to the Ford Motor Company who helped to make it all possible by generously providing an articulated lorry and driver for the day.
---
August 2019 - New Town Sounds, all day and into the night

Taking inspiration from the rich, musical heritage of Basildon, 'New Town Sounds' was an exciting, all day event that took place across Basildon town centre on 31st August 2019.
Venues throughout the town came alive to the sound of music in honour of Basildon's 70th anniversary, with an array of musicians, dancers and entertainers taking to multiple stages across various venues, including the Towngate Theatre, St. Martins Church, Eastgate Shopping Centre, The Edge, The Beehive, Jodhpur Indian Kitchen, Colors, St. Martin Square, Basildon Market and Basildon Library to name but a few.
From local, original bands, through to sing-along events, choir performances, jazz jams and everything in between, the aim was simple; to bring culture to the heart of Basildon, providing something for everyone to enjoy!
Music and dance with 248 performers in over 50 acts including...
Das Brass fresh from Glastonbury - Georgia Smith - Heiligenhaus Folk Music - Caged Arts - Cockney Sparrows - Vintage Jess - Jenny Wren and Her Borrowed Wings - Bazza Lennon - Georgia Chandler - St. Luke's Hospice Singers - Lauren Austin - Jacksons Warehouse - Fielding's Dream Correction - J. R. Hemingway - Calico - M. G. Boutler - Ellis McLeod - Leo C - The Disney Guy - Two Fried Eggs - Swing Patrol - Salsa with Salsa Heart Dance School - Danceworld Studios - Zumba with Michelle Regan - Modern Dance with Sapphire School of Dance - Fitsteps with Sapphire School of Dance - T.I.M.E. Therapy in Musical Expression
---
September 2019 - Basildon Arts Week

Basildon Arts Week took over the Towngate Theatre to showcase the artistic talent of 65 young people from six local schools and Children's Support Services, led by Ryedene Primary School in the form of photography, craft and paint, all centered around the theme of 'Basildon at 70'.
The amount of talent and effort the children and young people put into the artwork they produced for this exhibition really impressed us, and we think the results are beyond expectations and gave us a great deal of pleasure. Thank you all.
See the photos on facebook. See Photos of Basildon Arts Exhibition 2019 on facebook
---
November 2019 - Basildon at 70 at Christmas

Basildon's festive celebrations began with our Basildon at Christmas event on Saturday, 16 November 2019, events took place across the town in Eastgate, Basildon Market, and Town Square all the way to St Martin's Church. This year in particular was really special, in celebration of Basildon turning 70. The event saw dance troupes and tribute acts on the main stage, presented by Gateway 97.8, Christmas story time for our younger guests, as well as a variety of town centre entertainment.
The atmosphere was full of optimism, starting with the opening of Santa's Grotto at Basildon market, followed by the ice rink opened by the amazing BasOp choir. A colourful firework display rounded off a day of community Christmas cheer.
---
December 2019 - Civic Carol Service.

The Civic Carol Service, which took place in St. Martin of Tours church in Basildon town centre, was well supported by representatives from many important local groups and organisations who devote much of their time and energy throughout the year to improving the lives of others.
The service commenced with the carol 'Once in Royal David's City' beautifully performed by the Choir of Lee Chapel Primary School, followed by a bidding prayer lead by Father Tim Brampton the Mayor's Chaplain, and a welcome from The Mayor of Basildon, Councillor David Burton-Sampson. In all the service included several readings on the Christmas theme of the birth of Christ, with each reading followed by a carol sung by the whole congregation or by a solo performer. Father Tim addressed a short talk to the congregation, providing all with a welcome reminder of the true meaning of Christmas and the importance of this annual celebration
We cannot finish without giving a heartfelt thank you to the Choir of Lee Chapel Primary School and to the two soloists; Jake Hunter performing 'Mary did you know?' and Harmonie London whose remarkable performance of 'O Holy Night' touched everyone.
---
Also during the year
Children's creative writing competition

A huge thank you to Festival Leisure Park and all of the pupils who entered the creative writing competition in the Spring.
The theme of the creative writing competition was 'What will Festival Leisure Park look like in 70 years' time?' and local pupils were invited to submit their entries in no more than 70 words. Over 1000 entries were sent in, with the winning pupil being Sonya from Whitmore Primary School who received a cheque of £1,070 for her school - well done Sonya!
---
Decades Day at Wat Tyler Country Park

Decades Day at Wat Tyler Country Park was enjoyed by pupils from nine local primary schools where the park's education team took the children through how the architecture of the new town has changed over 70 years and they created models of what they think future buildings might look like. They thought of everything from Robot Hotels to a Healthy Eating Centre!
Costa Coffee who built a new Roastery in Basildon in 2017 also joined us on the day. They gave their first ever 'nose your smells' workshop for Basildon pupils - a hands-on taste and smell experience to understand how taste and smell work together.
---
Backside to Trackside
Back in March and April of this year as a part of Basildon New Town's 70th Anniversary celebrations, Basildon Council and Everyone Active put out a call for 70 people who wanted to become more active and take part in a free Backside to Trackside fitness programme starting in May 2019. The response was amazing and July saw our self-proclaimed 'Backsiders' complete their 5km Fun Run - a huge achievement for all.
Over 70 participants were guided through a learn-to-run programme by Everyone Active's personal trainer Andy Stead as they built their fitness. They also supported each other and shared their progress, videos and photos in a facebook group. The group have bonded through shared experiences and the level of support from participants has been incredible, they plan to stay in touch and continue their fitness journeys together.
---
Zine Workshops

Throughout the year, local artist Lu Williams has been hosting Zine workshops with residents of all ages and backgrounds. Zines are homemade publications that can be made by anyone, no matter their experience or interest.
Zine workshops 'Basildon Tenants Handbook'
Using work created by our residents, Lu launched the 'Basildon Tenants Handbook' in November 2019. Copies are available in libraries across Essex.

---
A thank you to all our Basildon at 70 partners
Finally, we would like to give a huge thank you to the large number of local businesses, community groups, volunteer groups, schools and educational organisations, as well as arts, cultural and physical fitness groups who gave their support as partners in the Basildon at 70 celebrations throughout 2019. Their willing contribution made possible a series of Basildon at 70 events and activities that were enjoyed by thousands. On behalf of us all, thank you again to all our partners for demonstrating that you Believe in Basildon.
All our Basildon at 70 partners are listed below. The list is a long one but nevertheless, please take a look and a moment to appreciate just how much they have helped.
Community, Volunteering and Civic Pride

Basildon and Pitsea Carnival - Basildon Billericay & Wickford Community Volunteer Service (BBWCVS) - Basildon Borough Youth Council - Basildon Heritage Group - Basildon Pride - Basildon Borough Twinning Association - Carers First - Essex County Fire and Rescue Service - Gateway 97.8 FM - Local radio - George Hurd Activity Centre - Heart of Pitsea - Inner Wheel District 24 - Laindon Activity Centre - LGBT Foundation - Motivated Minds - Pitsea Activity Centre - Re-engage (formerly Contact the Elderly) - Rotary Club of Basildon Concord - St Luke's Hospice - St. Martin of Tours Church, Basildon - The Advice Store - 'The Place', multi-purpose leisure centre, Pitsea
Physical Activity and Culture

Active Essex - Art Clubbers - Bas-Arts-Index - Basildon Operatic Society - Danceworld Studios - Directions 01 - Everyone Active - Essex Cultural Diversity Project - The Foundation for Essex Arts - La Danse Fantastique - Laindon & District community Archive - Maru Karate Kai in Basildon - Basildon parkrun - Peak Performance Fitness - Pro Sports Solutions - Salsa Heart - Sport for Confidence - Things Made Public - TIME - Therapy In Musical Expression - Towngate Theatre, Basildon

Education

Bardfield Academy - The Children's Support Service - Essex Libraries - Eversley Primary School - Greensted Junior School - Lee Chapel Primary School - Lincewood Primary School - Millhouse Primary School and Nursery - Noak Bridge Primary School - Northlands Primary School and Nursery - Phoenix Primary School and Nursery - Ryedene Primary And Nursery School - Signals - centre for creative digital learning - St Teresa's Catholic Primary School - The Willows Primary School and Nursery- Vange Primary School And Nursery - Wat Tyler Countryside Education Team - Whitmore Primary School and Nursery - Woodlands School, Basildon - Woodland Warriors
Business

Basildon Business Group - Basildon Market - Basildon Town Centre Management - BBC Essex - Buzz Bingo - Colors Nightclub - Costa Coffee - Eastgate Shopping Centre - Echo News - Festival Leisure Park - First Bus - Ford Motor Company - Future City - Go Trade - Hawkin's Bazaar - Interreg - Jodhpur Indian Kitchen - Leonardo-Finmeccanica - Palmers Solicitors - Peabody Housing Association - Swan Housing Group - Tesco - The Beehive - The Edge, Basildon Bar and Kitchen - The Slimming Clinic - Town and Country Planning Association - Yellow Advertiser online
---
Further information and enquiries
For further information and enquiries contact Basildon at 70. See contact details below.
Address

Basildon 70
Basildon Council
The Basildon Centre
St Martins Square
United Kingdom
SS14 1DL
Basildon, Essex