In the news: Fresh start for borough's rough sleepers at Nevendon Place
Basildon's rough sleepers will get a fresh new start at Nevendon Place after the scheme to provide 16 self-contained supported move-on flats is now complete.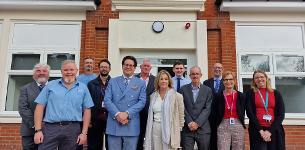 The site is on the land of the former ITEC Centre and includes ten one-bedroom self-contained apartments managed by the council, with a further six one bedroom pods known as 'Solohaus' units donated by the Hill Group, which are owned and managed by the Salvation Army's Malachi Housing scheme.
Each resident will have their own living spaces with private bathrooms and kitchens, plus all the white goods, furniture, and other essential items for them to be able to live fully independently.
The development involves partnership working with Peabody and the Salvation Army providing the primary day to day support, local charity the Lighthouse Furniture Project providing all the essential items, and Morgan Sindall Property Services being responsible for the conversion and the fitting with full kitchens, bathrooms and living accommodation.
Cabinet Member for Housing and Estate Renewal, Councillor Andrew Schrader, said: "This is such a fantastic scheme that will genuinely transform the lives of our residents in need. It's an excellent example of what can be achieved with the help of brilliant partners in Morgan Sindall Property Services, Peabody, the Lighthouse Project, Hill, and the Salvation Army.
"Not only will it give our residents in need a place to stay, but it will also allow them to live independently, and the training and support provided will help them to gain the skills needed to integrate back into the community. I can't wait to hear about the success stories that I know will come from this life changing facility."
Basildon Council's Housing Solutions Manager, Phill Warren, added: "At Basildon we're committed to the idea that rough sleeping doesn't need to exist. For our really vulnerable residents we've put this scheme together to make that a reality.
"The facility will provide the support and accommodation that people need to move into independent living, with a full range of support available to help residents deal with any mental, physical, and recovery issues they may be facing."
Peabody, the Salvation Army, and Basildon Council have worked together to create a joint management plan and referral process. The scheme will only be available to Basildon citizens who were, or are at imminent risk of rough sleeping. The facility will have a maximum three year stay.
The facility also includes office space and training rooms onsite for support workers, council staff and supporting agencies.
ENDS
Published on Wednesday 12 October 2022