In the news: Delight for members as Laindon Activity Centre returns home
Laindon Activity Centre has returned to its home within Laindon Community Centre to the delight of its members.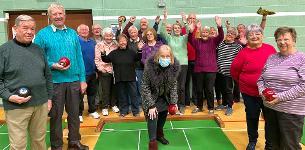 The activity centre had to close at the start of the coronavirus pandemic, before relocating to Laindon West Community Centre temporarily whilst refurbishment took place to reopen the Laindon Community Centre in Aston Road.
Laindon Activity Centre is open Monday to Friday 9am until 4.30pm, with a wide range of activities taking place each day from aerobics, to computer classes, to nail tech, and lots more.
The council's Communities and Wellbeing Committee Chairman Councillor Terri Sargent visited the activity centre to see some of the exciting activities taking place and to speak to its happy members.
Cllr Terri Sargent said: "I'm really pleased that members of the Activity Centre have been able to return to the Laindon Community Centre. Having visited the centre and spoken to the members, it is clear how much they value being back and are enjoying the newly refurbished facilities.
"I could see how important our activity centres are for the residents that use them, with day-time activities and social events that genuinely enhance the quality of life for our over 50s and give them a place to meet likeminded residents.
"Why not check out Laindon or our other centres at The Place or the George Hurd Centre, and see what activities you can get involved in."
Chair of the Laindon Activity Centre Kathy Rogers said: "The activity centre is great for not only physical wellbeing, but also your mental wellbeing too. I've been coming here for the last 10 years and I still make new friends every day. If you live local, it's an ideal place to have fun and do whatever activities you may want to get stuck in to. Come along and get involved."
Laindon Activity Centre membership for those who live in the borough is £10 per annum and £15 for those who live outside of the borough. Activity centre membership is open to anyone over the age of 50.
Our other activity centres are at the George Hurd Centre in Basildon and The Place in Pitsea. To find out more about each of our activity centres visit: Laindon Activity Centre
ENDS
Published on Monday 24 January 2022.