In the news: New and exciting Swan Mead Play Area opens to the public
A brand-new play area has opened for residents in Swan Mead Park - the first to open as part of the council's Play Review.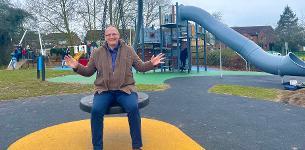 The exciting new play area was chosen after a face-to-face consultation at the site back in July, when it was selected by a majority of local residents out of the three shortlisted options. This all comes after the play equipment that was previously at the site had to be removed after serious fire damage.
£150,000 was spent on the new facility, which offers over 30 play features and includes varied equipment such as a Castle Fortress and a Rope Playground.
Chairman of the Leisure and Environment Committee Councillor Craig Rimmer said: "This is Your Council, Your Say, and that's why we've delivered a really high-quality play area chosen specifically by the parents who will be visiting it with their children.
"I'm really glad we've been able to deliver this facility for residents, it was great to visit and see how much joy it's already bringing, and to see how important a site this is for the local area.
"This is the first of eleven play areas scheduled to be completed over the next six months, which will kickstart our mission to ensure we have the best play facilities for our youngsters to enjoy wherever they live across the borough."
2021/22 is the first year of the council's Play Review, a 10-year programme of targeted improvements to our borough's play areas, where approximately £9 million of improvements will be made to create a network of the highest-quality play facilities for residents.
ENDS
Published on Wednesday 12 January 2022