In the news: Work completes on three new homes for borough residents
Leading councillors have welcomed the completion of three new homes, which will help borough residents get a foot on the property ladder.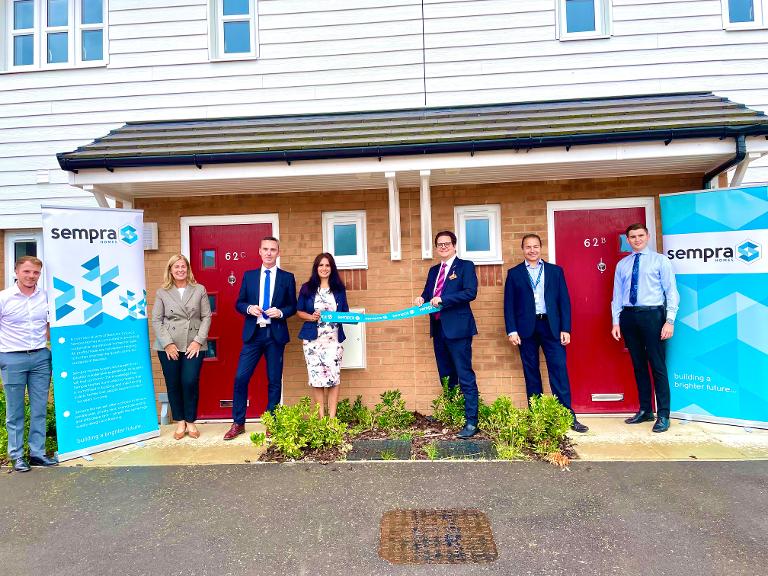 Sempra Homes, the council's house building company, has completed on the three two-bed houses, which are all under offer on a shared ownership basis. The development provides parking for residents and visitors, is secure by design and meets national space standards.
Chairman of the Housing Committee Councillor Andrew Schrader and Councillor Jeff Henry attended the site in Rayside, Basildon, alongside Sempra and Basildon Council officers on Thursday 5 August.
Councillor Schrader said: "It's not easy to buy a home but through our shared ownership schemes we are providing that opportunity to our residents. These are Basildon homes for Basildon people, and I am pleased to hear they are all under offer."
Leader of Basildon Council Councillor Andrew Baggott said: "This development by Sempra on a patch of land that previously held derelict garages, which were subject to nuisance, has transformed the area whilst providing an opportunity for our residents to get on the property ladder for the first time. Sempra was set up with the aim of building high-quality and affordable homes for our residents and we are delivering. Our task now is to accelerate more housing delivery through Sempra."
Melanie Keys, Manager of Sempra Homes, added: "I am absolutely delighted to bring forward this latest Sempra Homes development for residents.
"We have transformed a once derelict under-used garage court that was subject to nuisance behaviour into a much improved safe housing area for new residents to grow and flourish.
"The homes are of a great quality and will make a lovely home for residents now and for future generations. We look forward to welcoming the residents to their new homes very soon."

Sempra Homes, which was set up by Basildon Council as an independent company, is committed to delivering properties across the borough and will provide a variety of different tenures including affordable rent, shared ownership, market rent and market sale.

For further information about Sempra Homes, visit the website Sempra Homes
ENDS
Published on Friday 6 August 2021