Basildon at 70 - Celebrating 70 years with 70 Basildon heroes
As part of Basildon New Town's 70th Anniversary, Basildon Council and Eastgate Shopping Centre celebrated 70 years with 70 Basildon Heroes.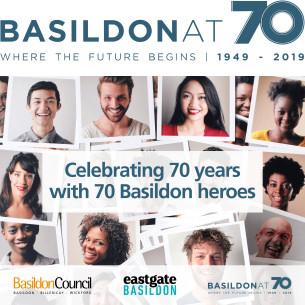 Throughout 2019 we received a host of Basildon Hero nominations from members of the public, mostly for individuals but including a number of community, voluntary, sports and cultural organisations as well.
We would like to give a BIG THANK YOU to everyone who took the time to nominate their own Basildon Hero.
Photos of our Basildon Heroes are published here . You can also see photos of the Basildon Heroes on display on the 1st floor of the Eastgate Shopping Centre in Basildon town centre.
All our Basildon Heroes were honoured at a reception with the Mayor in late-November 2019.
Our Basildon Heroes are here...
AAYUSH DANEJ
Aayush cycled 33 miles from Basildon to Buckingham Palace to raise money for Lee Chapel Primary School to buy essential new equipment. He did it in only 4 hours and raised £700 - a great achievement for one so young!
---
ASTON AVERY
As a patron of Anna Kennedy Online, Aston visits schools and local authorities to teach how to work with people with complex conditions and help raise awareness of autism.
---
AUDREY CARTER
Audrey is someone who should be recognised for a lifetime of public involvement! Following her love for performing arts, Audrey has long been involved in many fund-raising activities for local groups including Girl Guides, Junior Mission for All and Methodist Amateur Dramatic Society.
---
AYHAN AND GEN ISIKGUN
As franchisees of four McDonald's in Basildon, they are involved in a lot of fundraising for local projects, including providing accommodation for parents with sick children at Basildon Hospital and Play Whitmore.
---
BASILDON BOROUGH YOUTH COUNCIL
This inspirational group created a video called 'Lifting the lid on mental health' to raise awareness of mental health issues affecting young people, The video is now used as teaching resource in schools through Basildon, helping countless young people.
---
BASILDON HERITAGE
A group of passionate volunteers who work tirelessly to collect and record the history of the Borough for the benefit and enjoyment of present and future Basildonians. They collect memories, host exhibitions and give talks on the history of the area.
---
BASILDON HOSPITAL CHARITY TEAM
The hospital fundraising team's main appeal is the Polly Parrot Appeal, which has raised over £500,000 to help improve the children's services at the hospital. This includes purchasing sensory and distraction equipment, toys , electronics, additional medical equipment and decoration. The appeal also funds Polly's Pad, a three bedroom parent accommodation on the hospital site.
---
BASILDON NATURAL HISTORY SOCIETY
Basildon Natural History Society has been exploring and recording the rich local wildlife of the Basildon area for more than 50 years. This includes the establishment of a substantial woodland nature reserve at Marks Hill, which is operated entirely voluntarily, as well as collaboration with a range of other organisations dedicated to wildlife conservation.
---
BASILDON ROTARY
Since 1960, Basildon Rotary have been supporting local charities including Basildon Mind, the J's Hospice, St Luke's Hospice and many more. Their weekly meetings also provide a networking environment for members old and new.
---
BASILDON TWINNING ASSOCIATION
Founded several decades ago, the group support cultural exchanges with Basildon and other countries. They assist families and individuals with plans for exchanged visits, which have included bands, choirs, acting groups and artists.
---
BRIAN WELLMAN
For more than thirty years as a volunteer, Brian has served as a Magistrate, school governor, public governor, Trustee for St Luke's Hospice and more, offering unconditional support to the local community.
---
CARLA ANDREWS
Carla is the driving force behind Motivated Minds and has helped create a fantastic team that offers support and understanding to residents who feel the pressure of modern life. Carla is a living example of lived experience turned around and the borough is a much richer one for it.
---
CHARLOTTE ROSE
Charlotte has been a volunteer helper at Eversley Primary School for 37 years, working with children in Reception, Year 1 and 2. Her dedication, kind and caring nature, and her loving smile have brought delight and help to thousands of children. She's a true Basildon Hero!
---
CHRIS COOPER
Over the last four years, Chris has organised the local Celebrity Football Match and Family Fun Day charity event which has raised tens of thousands of pounds and awareness for local and national charities.
---
CLIVE WOODWARD
Clive works tirelessly to make the borough a safer place to live as Chairman of Basildon Borough Neighbourhood Watch. He regularly takes part in community events such as litter picks and gardening initiatives, all part and parcel of improving the local environment.
---
CONTACT THE ELDERLY
To help combat loneliness, Contact the Elderly host tea parties each month for their guests to enjoy. For some, it may be one of the few or only times they leave their house. The group makes a huge impact and deserves hero status for the delight it brings to many!
---
DAWN GERRARD
Dawn has been a longstanding lollipop lady in Lee Chapel South. She always makes sure our children are safe on school runs and is polite, friendly and caring. Not only does she do all of this she also does litter picking in the area. Completely her own idea and carried out entirely on her own initiative.
---
D.I.A.L. SOUTH ESSEX
With hard work and enthusiasm, Dial South Essex give support to local disabled people to help them gain a better quality of life. They do this through training volunteers to increasing income for residents - having a hugely positive impact on the community!
---
DON SHEPPARD
Don is a D-Day Veteran who holds many medals including the Legion of Honour. To this day he still walks around with shrapnel in his lungs, telling the doctor he's too old now to have it removed - a true hero!
---
DR ROD COLE
No one has done more in the cause of nature conservation in Basildon Borough. Dr Rod Cole was a former Chair of Basildon Natural History Society and Langdon Living Landscape - and a recognised authority on lepidoptera. Dr Cole's knowledge of the Borough's natural history is unsurpassed.
---
EAMONN MARTIN
Eamonn's athletic achievements include winning the London Marathon in 1993, the Chicago Marathon in 1995 and the London Master Marathon in 1999. In addition to training young athletes at the Basildon Athletics Club, you would often see him leading the pack around St Nicholas Church.
---
EMMA BLACKERY
Emma is a YouTuber with over 4 million followers as well as being an author and singer/songwriter. She released her first album in 2018.
---
GARY BROWN
For 10 years Gary has been the District Commissioner for Basildon Scouts. He is also a school governor and a Group Scout leader for Pitsea St. Michaels Scout Group and a member of the group that has transformed the Scout campsite here in Basildon.
---
GARY ELLIS
As a volunteer for Wat Tyler Country Park for four years, Gary is passionate about keeping the park free of hazards and litter that causes harm to local wildlife, no matter the weather.
---
GATEWAY FM 97.8
The team at Gateway 97.8 have been instrumental in helping local people find jobs; offer young people the chance to learn radio; and run accredited courses to help disadvantaged people gain transferable skills.
---
GATEWAY SEN YOUTH CLUB
The Gateway SEN Youth Club supports young people with additional needs between the ages of 13 and 25. The club's local volunteers work tirelessly to bring to life the fun and memorable experiences which have been planned by its young members. The club's regular activities include: pool, quizzes, cooking and the occasional outing.
---
GEOFF WILLIAMS
As a tenor member and Chair of Basildon Choral Society, Geoff's aim was for the choir to be major contributors to the Basildon arts scene. He is also a keen supporter of St Luke's Hospice, helping to raise funds, especially at Christmas through carol singing.
---
GERALDINE EVANS
In her role as a publican, Geraldine was a real community leader. She ran a successful local business for over 50 years and raised countless £1,000's for local charities - including the Vange Village Fayre that was run in conjunction with St Chads Church.
---
GINA BLACKFORD
Gina has been involved with the Basildon Community for over 30 years including the Basildon and Pitsea Carnival, Pitsea Tenants Association and Basildon and Laindon Royal British Legion. Her whole life is based on helping the community.
---
GINA STICKINGS
As a youth worker for more than 27 years, the past 15 years as Young Carer Support lead, Gina was involved in a diverse range of work. She has been a massive asset for the youth in the Borough - a constant and unrelenting support for them when times are hard.
---
GORDON REID
Gordon's involvement with the Basildon Natural History Society and Essex Naturalist Trust goes back to the late 1960s. He was instrumental in the negotiation that enabled the Essex Wildlife Trust to purchase the land that is now the Langdon Nature Reserve.
---
HANS WUSTEFELD
For twenty years, Hans worked for British Land as a General Manager, including at Eastgate Shopping Centre. He is well known in Basildon for his work in the community and supporting local projects, including the Normandy Veterans Association.
---
HEART OF PITSEA COMMUNITY PROJECT
Over the last four years, they have made valuable improvements to Pitsea including a youth club, an organic gardening project, an outdoor gym and children's playground.
---
JENNY McCUTCHEON
Jenny recently retired as headteacher at Fairhouse Primary School. Over the last two decades, she dedicated herself to improving the standard of education and life chances for the pupils in her care. She was a fantastic role model for her students, her staff and her professional community.
---
JO CULLEN
Jo has been supporting the local community her entire career through working as a librarian, a governor at a Basildon school, play leader for a local group and now as a pivotal member of the Basildon Heritage Group.
---
JOANNE DILLEY
Joanne founded Ronnie's Way, a club for adults and children with special needs. She organises events and activities the whole year-round to help members develop and have fun in a safe environment. She works so hard for many local families and is truly an inspiration to everyone she meets.
---
KEN PORTER
Ken is a leading enthusiast in the Basildon Borough Heritage Group and Laindon and District Community Archive. He has written many local history books but most of all, he and the heritage team keep alive past memories of Basildon.
---
LES COX
Les is a co-founder of the wonderful St Luke's Hospice, an organisation that provides tremendous support for patients and their families in the Borough. The hard work, time and dedication he gave is something to be acknowledged with pride.
---
LESLEY DAVIS-EYRE
As a Teaching Assistant and Gymnastics Teacher, Lesley has inspired many children in Basildon to gain skills such as resilience and determination, alongside a lifelong love of gymnastics. Her passion is contagious - and she goes above and beyond daily.

---
LIZ KEEBLE
Liz is headteacher at Vange Primary School. Not only does she do her day to day job but she also finds time to organise events that support parents and the community. She is regarded as a very thoughtful, kind-hearted, caring and considerate individual who thinks of the school community as 'one big family'.
---
LOLA OLUYOMI
Lola works with St Luke's Hospice and has been involved in lots of different fundraising initiatives. She also volunteers for a community kitchen in Laindon for people over 55.
---
LYN WILSON
Lyn founded the groups Stepping Forward for widows and widowers and Gone Too Soon for parents whose adult children have died. She is dedicated to supporting and helping people rebuild their lives following bereavement.
---
LYNDSEY BARRETT
Lyndsey the driving force behind the Sport for Confidence programme which deliver weekly activities for those facing barriers to participation including people with learning disabilities, poor mental health, autism and people living with dementia and other long term conditions.
---
MAGGIE CLOWES
For nearly 40 years Maggies Pet Rescue has been instrumental in rehoming dogs and cats who need a forever home. Sometimes this doesn't happen and she takes them in permanently to give them a loving home.
---
MARC GRAYSTON
As chief instructor of Maru Karate Kai, a karate club for children between 4 and 18, Marc is a key member of the Basildon community. He not only teaches self-defence, but also builds confidence in children encouraging them to become great leaders.
---
MARGARET KELLY
Margaret has been a fundraiser at St Luke's Hospice for over 10 years. On average she raises £600 per month and then works hard to get as much as possible of that amount fund matched by a variety of financial institutions, resulting in a monthly total of over £1000. When not doing that she additionally bakes cakes for events!
---
MARION BULLARD
From secretary of Fryerns Community Centre to Basildon Council Housing Officer, Marion has supported the community for decades. She has helped expectant young mothers and made a positive impact on lots of young people in Basildon.


---
MARK DALE
A 'one of a kind' individual, Mark lives his life with others continuously in mind. He created the Basildon Disability Equality Forum in 2010, he is a peer reviewer for the Royal College of Psychiatrists, a Stonewall LGBT Champion. Mark also works with Essex Partnership University NHS Foundation Trust as a volunteer. A real inspiration to all!
---
MAUREEN WEST
Maureen has been a lollipop lady on Clay Hill Road since the 1970s and is always cheerful, no matter what the weather is like. Always with a few words for the children that she sees across the road, stepping out into traffic and making sure that all the children reach school safely. She must have seen several generations in her time.
---
MICHELLE WESTENHOFER
Michelle runs the SHARE charity which supports disabled children and their families. As a parent of a disabled child herself, Michelle understands the need to help families. SHARE offers respite care for disabled children, enabling them to have a fun time in a safe environment and allowing their families to take a much needed break.
---
MICK TOOMER
Mick brought sporting recognition to Basildon as part of the England Sea Angling Team for over 14 years, winning two team and one Individual World Championships. He also organised free junior angling tuition courses and the Basildon Junior Angler of The Year competitions.

---
MOIRA BROCK
Founder of La Danse Fantastique, Moira wanted to open up the world of music and dance to all young people, including those with physical problems, sensory impairments or learning difficulties.
---
PAM and JOHN McKAY
This inspirational couple are passionate about community and run bingo sessions, theatre trips and many events for over 50s at the Lee Chapel North Community Centre. They founded the Helping Hands Food Bank, and created a well-used community hub for everyone.

---
PAPWORTH TRUST BASILDON BRANCH
The Papworth Trust believes that people with learning disabilities have the right to lives which are as full as those of anyone else, and the Papworth Trust in Basildon works hard to address any barriers to this objective. The people who use their services say they are really proud of what they achieve and the Papworth Trust is proud to provide such a meaningful services.
---
PAUL STRINGER
Paul has worked at McDonalds for 23 years and was instrumental in helping build the Ronald McDonald House (now Polly Parrot's Pad)at Basildon Hospital, which offers accommodation for parents of poorly children.
---
PETER FURZE
Peter is a long-standing member of the Basildon Natural History Society (BNHS). His involvement has coincided with the establishment of the Marks Hill Wood Nature Reserve, which became part of the Essex Wildlife Trust's Langdon Nature Reserve in 1989. For many years he has fulfilled the entirely voluntary role of Warden of the reserve. Peter is one of those souls who can be looked upon to lead field trips and educational activities. His input has been massive, and thanks to him more than anyone else there is an excellently-managed nature reserve.
---
RACHEL OJO
Recipient of 'The Diana Award' for her role as an anti-bullying champion, Rachel is a member of the Basildon Borough Youth Council as well as Chair of the UK Youth Select Committee for knife crime, representing the young people of Basildon at 10 Downing Street.
---
REEGAN McMILLAN
Reegan plays football for England in the Cerebral Palsy team while also working for Basildon McDonalds for nearly five years. He is a true inspiration for young people in Basildon, helping not only his community but his country.
---
SCOTT HANN
As Director of Coaching at South Essex Gymnastics Club, based at Basildon Sporting Village, Scott has made the club one of the top venues for the sport in the world. He works tirelessly at grassroots levels with boys and girls, and has developed coaches, judges and others in the UK and overseas.

---
SHEILA CHESNEY
Sheila is a former Chief Executive of Basildon Mind who still volunteers with the charity since retirement. For more than 25 years she has supported the people of Basildon and surrounding areas in improving their mental health and setting up vital services.
---
ST LUKE'S HOSPICE
St Luke's is known and recognised by the Care Quality Commission for the 'Outstanding' care it delivers in our community, which it has done since 1990. What makes them truly heroic is the hard work, passion, courage and commitment behind the scenes - by all its staff, volunteers and trustees, past and present.
---
STAN HOLLANDS
It was very much down to Stan that Willow Park, Marks Hill Wood, Hoppit Shaw and the Dunton slopes - all of which now form the Langdon Nature Reserve - were not built upon and instead reserved for future generations of Basildon to enjoy.
---
SUE JACKSON
Sue is Headteacher of Lee Chapel South Primary School and has been a complete guiding light of this very successful School in the heart of Basildon. She is also CEO of six Schools with the MAT Trust Academy. With Sue, the children of Basildon always come first.
---
TERRY ORCHARDS
Terry has worked in community arts for over 20 years. Suffering from dyslexia, he has shown dedication and compassion when working with young people who have learning difficulties. He has adopted an innovative and creative approach that has brought joy and happiness to many.



---
TIME MUSIC THERAPY
Time Music Therapy work within the community to enrich lives through music therapy - and were instrumental in establishing a regular Monday night for those aged over 16 with a disability. It provided a quality night in a safe environment for people who might struggle in social situations - changing lives for the better
---
TONY DI SOMMA
Known as Basti the Legend, Tony used the same ice cream van, a Bedford 1964, for 50 years. Somehow he seemed to remember what everyone's favourite ice cream was and even if you didn't have quite enough money, you'd still get an ice-cream!
---
TOWNGATE PANTOMIME PRODUCTION TEAM
The team have been passionate in providing a platform for the youth of Basildon to become involved in the theatre, helping to build life skills and experience for their futures.
---
TRUDY WESTMORE- COX
By co-founding St Luke's Hospice Basildon, Trudy has been a support and valuable lifeline for many patients and their family members during difficult times for many years.

---
Address

Basildon 70
Basildon Council
The Basildon Centre
St Martins Square
Basildon, Essex
SS14 1DL
United Kingdom