Basildon at 70 - Our heritage
2019 marks 70 years since Basildon New Town was created and everyone is invited to celebrate!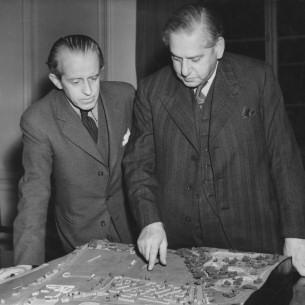 This year Basildon New Town turns 70! It was back in 1946 that Lewis Silkin outlined the New Towns Bill vision, towns where 'friendliness, neighbourliness, comradeship, and the spirit of helpfulness' could thrive.
In 1950, work began on the first new road, Eastmayne. This was quickly followed by the first tenants who moved in houses in Redgrave Road, Vange.
The 1960s unveiled Basildon Bus Station, the much loved Mother and Child Fountain, St Martin-le-Tours church and iconic Brooke House. 1974 saw the 4.45am to Fenchurch Street train leave Basildon Train Station for the first time. The 1980s welcomed headliners including the Towngate Theatre and Wat Tyler Park, much loved attractions today.
It was in 1997 that the town was rechristened 'Bas Vegas' following the launch of Festival Leisure Park before morphing into 'Basilwood' in 2010 with the installation of the iconic Basildon sign. Looking forward, future developments include the introduction of a new cinema complex in East Square.
There's plenty of archive material available. You can see a selection of images below and why not visit Basildon Heritage Group or check out the Laindon & District community Archive. If you have any photos to share we would love to hear from you, use #basildon70 on social media or email basildon70@basildon.gov.uk.
Basildon heritage photos

June 1951 - First new town homes in
Redgrave Road

September 1959 - Basildon market
opens

July 1962 - The Mother and Child
water fountain sculpture in town
square is unveiled

August 1958 - First Basildon
Carnival held

April 1973 - Basildon Hospital opens
on Nethermayne

November 1974 - The 4.45am to
Fenchurch Street leaves Basildon
Station for the first time

August 1980 - Eastgate Shopping
Centre in Basildon town centre opens

April 1984 - Wat Tyler Country Park
in Pitsea opened by the Rt. Hon.
General Secretary of the T.U.C.
Len Murray

September 1998 - Festival Leisure
Park officially opens

March 2010 - A new landmark
Basildon sign is unveiled

July 2012 - The Olympic Torch visits
Basildon

Coming Soon - Empire Cinema complex,
East Square, Basildon town centre
Address

Basildon 70
Basildon Council
The Basildon Centre
St Martins Square
United Kingdom
SS14 1DL
Basildon, Essex